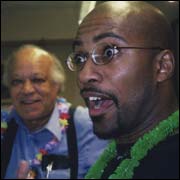 Like steppin' past B. Hall on a Thursday night, huh?
First of all, I don't blog here. I'm too busy, I'm too lazy. I blog
here
and maybe at Tumblr when I'm really weird. The
main steez
is where I encapsulate all my stuff -- Twitter, LinkedIn, Facebook, Myspace and what not. A few of the new ones aren't on there yet, but I'll get it all handled.
Music? Whoa. Well, I did a few tracks with Maurice/211 (B Boy K's cousin) and DJ J Love, and I heard a rumor that there's some tracks with me and Dr. Oop from when we went to USC, but I don't have copies of 'em. I suppose I could post that stuff one of these days, plus more recent stuff I've done in Reason and Garageband (but I never have a good place to do vocals, even though my homeboy owns a pro recording booth, it's in Torrance and I work four jobs).
Mostly, I've been rocking
novels
(available
on Amazon
) and poetry (I'm in the
Voices of Leimert Park Volume 1
anthology, an edition of
Drumvoices Revue
and a few other places) and chasing paper like I worked at Dunder Mifflin (producing web sites, still doing some journalism here and there, doing technical and business consulting, hosting karaoke shows, DJing private events, sound engineering, making jokes about pie ...) -- I'm out here grindin' like Akon was on the chorus.
Anyhoo, love seein' everybody again, and we still gotta cumm up! >8^)